The Coaches Preseason Football poll resembles a number of other predictions by media publications released this summer. FIU,
Arkansas State
, Louisiana,
Western Kentucky
and
Troy
seem to be the consensus picks to finish at the top of the Sun Belt this season. While we don't disagree that group should be considered to be the contenders to finish at the top of the Sun Belt, we do have a few differences on how we think they will finish.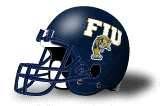 1.)
Florida International
— The Panthers are the consensus picks to finish at the top of the Sun Belt in 2012, even in our poll. In their last season in the Sun Belt, they return the 10 starters on the best defense in the conference with DL
Tourek Williams
, DL
Isame Faciane
and S
Jonathan Cyprien
as premier athletes. On offense the Panthers did lose
T.Y. Hilton
, but return the top running back in the conference
Kedrick Rhodes
, a very good offensive line and a group of very good receivers led by
Wayne Times
and Glenn Coleman. Sophomore
Jake Medlock
takes over the offense at QB, but he has more physical skills than last year's starter Carroll. Then there is the matter of FIU's out if conference schedule;
Duke
,
Akron
,
Louisville
and
UCF
, clearly nothing formidable in that group. Road games at Louisiana, Troy and UCF will be the stiffest test for the Panthers.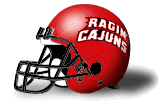 2.)
Louisiana
– Yes, we pick the Cajuns over Arkansas State here for several reasons beginning with that fact that Coach
Mark Hudspeth
is in his second year at the helm of the UL program. Hudspeth doesn't need to get his system integrated with athletes from the previous staff, he did that last year. While the Cajuns have questions on defense, they have very little concerns on offense with the return New Orleans Bowl MVP QB
Blaine Gautier
behind center. Gautier will return all but one of his top receivers including
Javone Lawson
and
Harry Peoples
, an experienced offensive line with four starters returning and Sun Belt Freshman of the year running back Alonzo Harris. On the defensive side of the football, Hudspeth brought in several former SEC signees in Tig Barksdale,
Jalen Fields
and
Delvin Jones
to help transition the defense for the 2012 season. All conference PK
Brett Baer
returns and gives UL some consistency on special teams. Another reason for slotting the Cajuns second instead of ASU is because they host FIU, ASU and WKU at home this season. Like Arkansas State last season, the road to the Sun Belt championship could run through Cajun Field this year.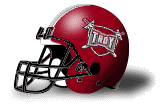 3.)
Troy
—we like the Trojans here because they return two much talent and the winningest coach in Sun Belt history Larry Blakeney. In fact, Blakeney never had suffered through a losing season since moving to the Sun Belt until 2011. Troy was decimated by injuries last season and inconsistent play of a few upper classmen that were suppose to help the Trojans return to another bowl game. Troy returns a very good core of offensive personal led by QB
Corey Robinson
that threw for over 3,400 yards in despite playing with injuries most of the season. With a solid offensive line returning and quality backs and receivers returning, the Trojans should be ranked at the top of the Sun Belt in offensive production. On the defensive side of the football, the Trojans return six starters, but that's not necessarily a good thing. Look for a number of new faces on the defensive side of the football with an influx of junior college recruits signed in the 2012 class. The Trojans schedule sits well with FIU, UL and Arkansas State visiting Troy at home.
4.)
Arkansas State
— Red Wolves fans are probably wondering what the heck are they thinking at the Cajun Redzone picking us fourth in the conference? We have a great new head coach in Gus Malzahn; the Sun Belts best QB
Ryan Aplin
, quality athletes at skilled positions and a good recruiting class. All true, but you also have a head that has never been a head coach at any level in NCAA football and play four bowl teams on the road (
Nebraska
,
Oregon
, UL, FIU) in an entirely new system. We are not saying that Arkansas State does not have the talent to win the conference or Coach Malzahn will crash and burn in first season in NCAA football as an head coach. But you simply don't take over an FBS program in your first job and play four bowl teams on the road without some struggles along the way.
5.)
Western Kentucky
– We thought really hard about picking the Hilltoppers at the fourth spot over Arkansas State, in fact they could be picked as high as second without much debate. But after one look at the schedule, we didn't hesitate to drop them down to the fifth spot in our preseason poll. The Hilltoppers have road games at
Alabama
, Kentucky, FIU, ASU and UL and face
Southern Miss
at home. That is not the schedule of a Sun Belt contender and certainly not this season without running back
Bobby Rainey
. Coach Willie Taggart is a Harbaugh disciple and runs the same offense with a big offensive line and the best tight-end in the sun Belt Jack Doyle. Senior
Kawaun Jakes
returns at quarterback and if he played every game against Louisiana, he would be an All-American. Jakes will carry more of the burden on offense this season because of the loss of Bobby Rainey. On defense, the Toppers have two of the most talented defenders in the Sun Belt in linebacker Andrew Jackson and defensive lineman
Quanterus Smith
. Those two pro prospects lead a very good defensive front seven for Western Kentucky and will make it tough for offenses to move the ball consistently. Special teams needs some work, specifically when it comes to finding someone that can actually kick a field goal.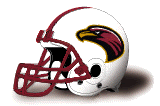 6.)
ULM
– The Warhawks are a team that has the talent in both starting units to play against anyone in the Sun Belt. Last season, the lack of depth on both sides of the football hurt them and they once again have a large number of underclassmen on the roster. Quarterback
Kolton Browning
doesn't get the credit he deserves playing in the shadows of Aplin, Gautier and Robinson in the Sun Belt Conference. Browning has plenty of talent around him on offense with running backs
Jyruss Edwards
and Centuries Donald returning, and a solid group of receivers led by
Brent Leonard
and
Tavarese Maye
. On defense, the Warhawks return a solid core led by linebackers Cameron Blake and
R.J. Young
, and safety
Isaiah Newsome
. Sophomore kicker
Justin Manton
must improve upon last season to help ULM win close games. With games against Arkansas,
Auburn
and
Baylor
out of conference, and WKU, FIU and ASU on the road, the Warhawks will find it difficult to make it to a bowl game in 2012.
7.)
Middle Tennessee
—The Blue Raiders are coming off a 2-10 season that left people scratching their heads and wondering what went wrong. It's hard to point to one particular problem when a season quickly goes bad, but every phase of the team performed inconsistently. The Blue Raiders has some pieces to work with starting with quarterback
Logan Kilgore
and running back Benny Cunningham. Both are talented athletes that need to have good seasons for Middle
Tennessee
to be any kind of threat. Both will need improvement from the offensive line and receiving core to have better seasons. On the defensive side of the football, the Blue Raiders didn't do much very well. Defensive linemen
Omar McClendon
and
Jimmy Staten
are two quality athletes to build a solid defense around for the 2012 season. While the Blue Raiders seem to have a competitive schedule, they still play
Memphis
,
Georgia Tech
,
Mississippi State
, FIU and Arkansas State on the road. That is not good news for a program that won 2 games the previous season and lost six games by 20 or more points.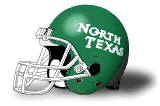 8.)
North Texas
— This is North Texas's last season in the Sun Belt, next year they begin play in C-USA. Coach McCarney and the Mean Green may have enough talent to make a significant move in the conference this season. Quarterback
Derek Thompson
is now in his junior season and the expectations are high for him to have a breakout season. In order for that to happen, the Mean Green offensive line must block better and McCarney must find a replacement for
Lance Dunbar
at running back.
Brelan Chancellor
returns at wide receiver and will help Thompson open up the offense down field. Zach Orr is one of the top linebackers in the Sun Belt Conference and will help anchor an improving Mean Green defense this fall.
Will Atterberry
is the best punter in the conference and is a valuable weapon for North Texas in winning the battle of field position. So why are we not picking North Texas to finish higher in the Sun Belt? First, the Mean Green only plays five home games including contenders Louisiana, Arkansas State and Troy. The schedule also includes trips to
LSU
, WKU,
Kansas State
,
Houston
and ULM. That schedule makes it difficult for us to see North Texas finishing much higher than the middle of the pack.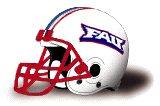 9.)
Florida Atlantic
—Coach Pellini is the new sheriff in town and the fans are excited about the new direction of the Owl program. Pellini has put together a solid staff and now has his first recruiting class under his belt heading into fall. Pellini went out and signed the quarter back he thinks can run his offense in
Melvin German
from Peal River Junior College. German is the type of athlete that Pellini wants to build his offense around. But Pellini will have to find one or two backs to carry his running game behind a rebuilt offensive line. On the defensive side of the football, fans can expect a group of athletes that will run to the ball and hit hard in his scheme. Linebacker
David Hinds
and defensive back David Reaser will provide some leadership for the Owls new defense under Pellini. Florida Atlantic will be improved this season, but with only five home games including Troy, FIU and Louisiana it will not be enough to help them move out of the bottom of the Sun Belt this year.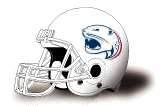 10.)
South Alabama
—The Jaguars will not be without some talent this season under Coach
Joey Jones
, but there are no Henderson State's or West Alabama's on this year's schedule. Other then Nichols State and Texas-San Antonio, finding wins on the schedule will be a challenge for Jones. Trey Clark returns on the offensive line and will provide some leadership on the offensive side of the football. But South Alabama excelled on the defensive side of the football in 2011 and returns some of its top athletes in safety Charles Harris and linebackers Jake Johnson and
Enrique Williams
. While Jones has South Alabama on the right course already at 85 scholarships, the wins will still be hard to find this season. The Jags schedule consists of road games at
North Carolina State
, Mississippi State, ASU, ULM, Louisiana and
Hawaii
.