The Cajun's conducted their first scrimmage of the spring in the rain Saturday afternoon, lasting two hours and for 105-plays. While Coach Hudspeth as happy with the execution of his offense, he was not happy with the defense's lack leadership and absence of big plays.
"We gave up too many big plays today and didn't create any turnovers," Coach Hudspeth stated. "In our defense are might big up some big plays but we want to create some turnovers and make some big plays to stop the offense on third down as well. The thing that was most disappointing was that we didn't tackle very well either."
While Coach Hudspeth wasn't happy with the execution of his defense, he was happy to see his young quarterbacks make some plays and move the chains. Coach Hudspeth said they would look at film to see how his young quarterbacks performed, but he had something to say about each of the redshirt freshmen.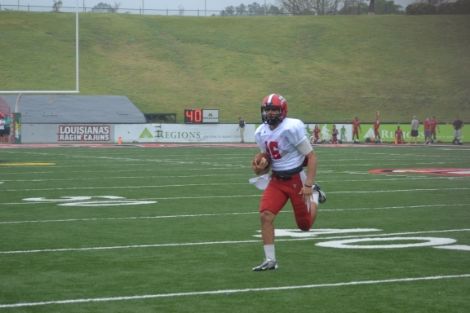 ""Brooks made some things happen when he was in there today, but so did D'Shaie and Jalen," Hudspeth said. "I thought all three did a nice job leading the team, despite the less than ideal weather. It will be good to look at the film of this scrimmage."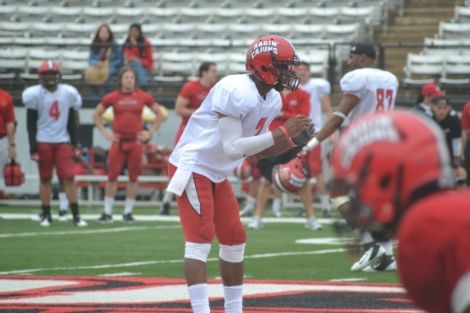 D' Shaie Landor and
Brooks Haack
each threw a pair of touchdown passes while
Jalen Nixon
had one during the scrimmage.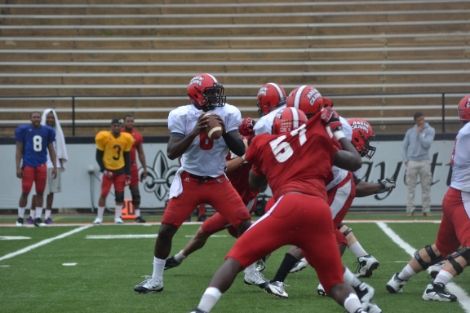 Terrance Broadway
was looked sharp throwing the football early in the scrimmage, hitting WR Adam Savoie for 65-yards down the sideline for a touchdown and later would find TE
Ian Thompson
in the endzone for the three-yard scoring toss.
Jamal Robinson
also had a big day catching the football, with touchdown receptions of 70 and 65 yards during the scrimmage.
The Cajuns will return to the practice field Monday, March 25th at 3:00pm.